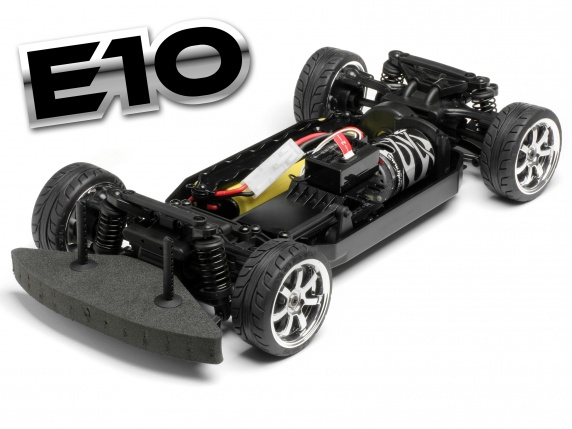 E10 - Electric Touring - PREVIEW
At the Nurnberg Toy Fair this year HPI will be previewing an exciting new car kit, aimed to bring HPI quality and fun to everyone – the spectacular E10!

Designed for the entry-level RC hobbyist, the E10 will come pre-assembled right out of the box, with a pre-painted and cut out bodyshell. With kits for drift car fanatics and "street machine" fans, E10 buyers will have a variety of hot machines to choose from.
The drift car kits will feature hot drifting cars from the sideways world of the 'drift kings' – classic and modern Japanese hot rods equipped with hard drifting tyres. Muscle car fans will be able to choose from an array of exotic European, modern American and vintage Japanese sports cars!

HPI's huge array of option touring car wheels, tyres and bodyshells will fit right onto the pre-built E10 chassis. Replicating modern sports cars, exotic supercars, historic racers and vintage muscle cars has never been easier!

The E10 will be released in Japan soon, and will reach Europe later in 2007.

expected versions:

SPORT
RTR E10 with Lamborghini Murcielago
RTR E10 with NISSAN SKYLINE R32 GT-R
RTR E10 with Ford Mustang GTR

DRIFT
RTR E10 DRIFT with Mazda RX-7 FD3S
RTR E10 DRIFT with Toyota Sprinter Trueno AE86


.