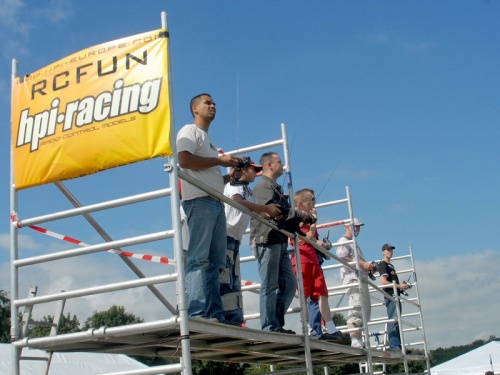 Netherlands HPI Baja Cup Race Report!
We could not have asked for better weather this past Sunday when the first Baja cup, organized by RCFUN.nl In Blaricum the Netherlands, was held. A total of 40 Baja owners showed up at the starting line and besides their Baja's everyone brought friends and family to come and support them.
Marshals had to sometimes jump high to avoid getting hit by the competing cars, a lot of Oohhs and Ahh's from the supporting crowd and the drivers had the time of their lives at this first event.

Three ten minute qualifying rounds were driven in a total of 4 heats. There was one higher and one lower final to also make it able for the not so experienced drivers to at least be able to qualify themselves for a final.
Main Final
1 Philip van Heijningen 67 Rounds
2 Emile Grim 66 Rounds
3 Arnold Bijl 64 Rounds
4 Edwin Schonewille 60 Rounds
5 Jeffrey de Ruyter 56 Rounds
6 Raymond 55 Rounds
7 Marc Kalkhoven 53 Rounds
8 Peter Brunken 43 Rounds
9 Daniël Jan Lourens 43 Rounds
10 Maurice van Raay 15 Rounds

Best of the Rest Final
1 Stefan van Duijvenbode 31 Rounds
2 Dennis (Almere) 30 Rounds
3 Robert Heaften 26 Rounds
4 R. Zonderman 16 Rounds
5 Davey Koch 7 Rounds
6 Ommeren 3 Rounds

The overall winner of the day and the one who went home with the trophy was Philip van Heijningen who won the final with 67 rounds after a 25 minute during final. It was not an easy win as 5 minutes before the end of the final Philip was still in second place. The best of the rest final was won by Stefan van Dijvenbode.

Make sure to check the website at www.hpibaja.nl to find out about the next HPI Baja Cup. If you were not able to attend this one make sure you join the next. It will be soon!