Availability
HPI Europe and their network of distributors do everything possible to enable the model shops to give you an excellent spare parts service. Model shops placing orders with HPI distributors, particularly in the larger European countries (UK, France, Germany, Spain, Holland) have no minimum order quantities for spare parts and turnaround times are on average 1-2 days with fill rates of >97%.

Some distributors even offer you an online tool to check the availability of all parts within their stock, for example:

LRP-Electroninc, Germany.
Mirage RC Enterprises, UK.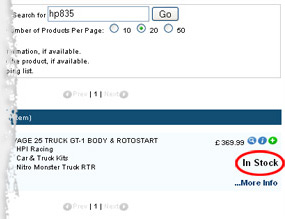 Simply key in the part number and you know immediately if a part is available at the distributor - no excuses left for the shops!

If despite all this your local model shop is not giving you a good service, whether not sufficiently stocking HPI spare parts, or not willing to order for you, please contact your local HPI distributor or HPI Europe directly and they will be able to advise you.