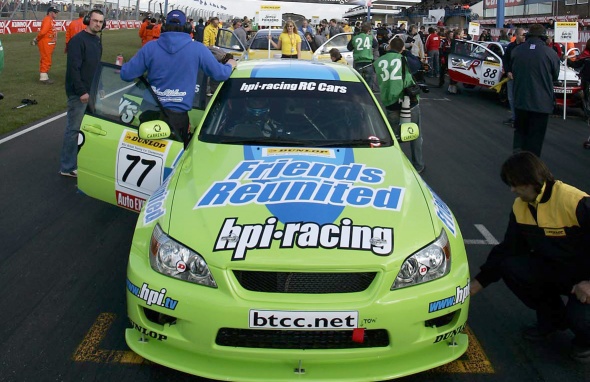 BTCC Race Event 1 - An Experience to Build Upon!
Last weekend saw the first roll out for the new HPI Racing with Friends Reunited BTCC team at Donington Park race circuit. The late arrival of engine, gearbox and other performance parts meant the first race event was little more than a test session for the team.
The delay meant only one Lexus IS 200 could be completed just in time for the race, whilst the other remained in the garage. The team made the most of the situation to gain plenty of information for the forthcoming races where they plan to have the both cars fully operational and tuned for 100% performance.


| | | |
| --- | --- | --- |
| | | |
| HPI Lexus in the Regate corner | HPI Lexus down the straight | HPI Lexus on the grid |
| | | |
| --- | --- | --- |
| | | |
| HPI Savages showing off in the pit lane | Richard Williams signing HPI catalogues | HPI Savage and Nitro 3 Evo on the Lexus IS200 |
However, the engines and gearboxes in the Savage monster trucks and Nitro 3 touring cars were fully functional during the "pit walk"! The Savages bossed the pit lane yet again as they bombed up and down the tarmac catching some big air and showing off to the increasingly large crowds. The HPI team were swamped by spectators as they jostled for the front row, trying to catch a glimpse of the action!

The Savage SS 4.6 (#874), Savage 25 RTR (#835) and Nitro 3 18SS (#10256) were the cars used by the HPI team in the demonstration, and apart from a few scratches from miscalculated landings, they returned to base unscathed - another testimony to the strength and durability of the HPI Savage trucks and touring cars!

(photo's by Alistair Spencer)