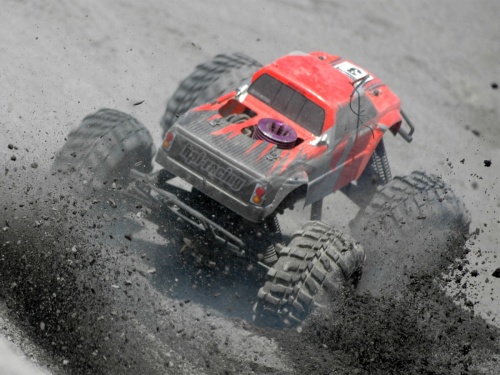 Monster Trucks Battle It Out In Iceland
Hill Climb, the most popular motorsport for full size cars in Iceland decided to slightly modify this fast and dangerous race for the RC World.

Organisers Selas and SBKI the local RC club challenged RC drivers to compete in either the Monster Class or the Stadium Class. Monster Class proving to be the most popular with 28 drivers while there were 4 drivers in the Stadium Class. However, all drivers had to prove they could come through all 7 different, difficult and tough courses on full throttle without touching the gates.

As tradition the last course in Icelandic Hill Climb is the most daring and dangerous and there was no exception for the RC Cars, drivers had to be prepared to take the risk that the final course may damage their expensive and well treasured cars.


The competition was very close with the final course becoming the deciding factor to crown the winner. All drivers knew they would be challenged to their limits, they had to do their up most best to gain the maximum points, it was tough but they did it.

And yet again HPI's Savage proved to be the best big block monster truck, as it placed 4 times in the top 6. However, it was not only the Savage that was a winner, HPI's Rush Evo and MT-2 came 1st and 2nd in the Stadium competition! And to put the icing on the cake the overall car that took the most points was HPI's Rush Evo.

Watch the video of the final course....
The Final Course

Pictures courtesy of Guffi and Selas, Iceland.